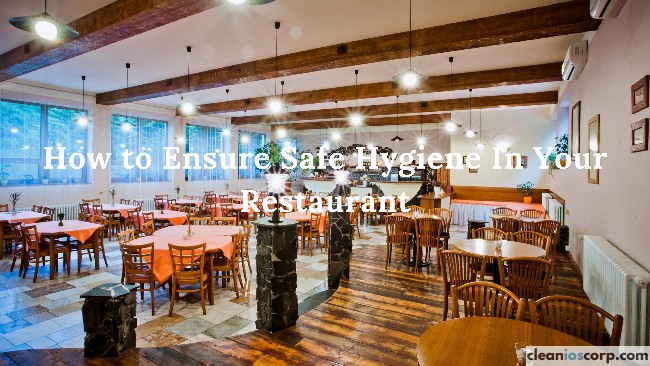 Hygiene is a crucial element for the success of a restaurant, for nobody prefers an unhygienic restaurant to dine in.
From clean cutlery, glassware and tableware to clean floors, bathrooms and service, attention to detail often elevates the restaurant's ambiance and attracts more customers.
However, one of the biggest challenges in restaurant industries is to keep the kitchens, bathrooms and client experience clean and safe. But no more!
Cleanios Corporation offers practical solutions for all your restaurants' hygienic needs.
Check out some of our chemical and automation solutions:
Concentrated Surface Sanitizers With Degreasers
The to and fro of customers and staff can affect the floors, kitchen surfaces and bathrooms. If these areas are not cleaned, they can develop germs and make the space look filthy, slippery and prone to hazards.
We offer concentrated or RTU sanitizers, disinfectants, kitchen floor and surface cleaners that deep clean, degrease and disinfect the most challenging spots so that the surfaces retain their shiny look.
The Cleanios Automation Solutions are as easy as pushing a button on a dispenser to mix and prepare all of your chemical cleaning needs, ideal for your end-of-day cleanup.
Ware Washing Process
A challenge for restaurants where you clean pot and pans, dishes, glass and cutlery continuously and need it to be done effectively and efficiently day in and out, Cleanios Corporation offers the best ware washing processes. It has you covered with both automation and chemical operating procedures that ensure you meet all health standards.
Stain Removal
Stain removal has always been a challenge for restaurants; whether in table linen or uniforms, washing is sometimes not enough.
To deal with this, stain removal solutions are available.
Our grease-out product is ideal for restaurants as it is designed to clean oil and grease from fabrics and porous surfaces, making you operate with confidence while conveying your restaurant's brand with ease.
Carpet Cleaners
Sometimes food particles can fall on the carpet or floors while eating or serving. This can further develop germs and contaminate if neglected or not cleaned properly.
Cleanios Corporation offers carpet and floor chemical solutions designed to thoroughly clean and kills the surfaces' bacteria, fungi, and germs. This solution is DIN registered and formulated to disinfect hard surfaces.
Touch-Free Dispensers
You want to minimize the human touchpoints to prevent the spread of germs and contamination.
Touch-Free dispensers are great for the eating experience when arriving and leaving; they provide protection and preventative maintenance with ease.
Cleanios Corporation offers touch-free dispensers available in wall mounting and free-standing.
The product used in the dispenser is a USP-Pharmaceutical grade ethanol antibacterial skin cleanser that kills harmful germs. Or hand soap that cleans, leaving your hands soft to the touch.
Moreover, the design is so sleek and modern that it elevates the look of the space and ensures enhanced safety and hygiene.
With Restaurants, It Is Personal
We know every restaurant has its personality, so we will design around what you need to work at your best; reach out to us for the best chemical and automated cleaning solutions for your environment.
We upgrade your restaurant's hygienic standards and impart safety to employees and staff. This positively impacts the team's productivity, attracts more customers, and builds on your business's reputation of quality and excellence.