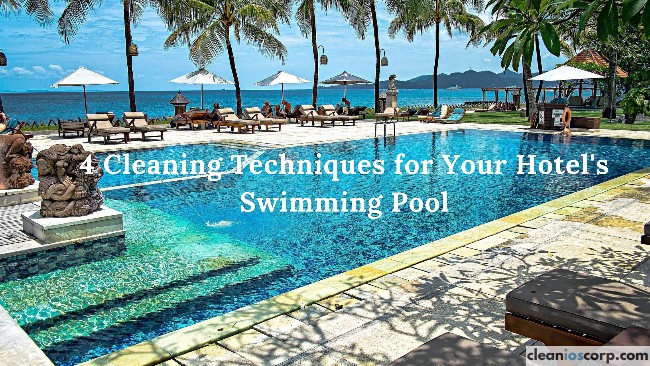 Maintaining the condition of your corporate swimming pool is essential not just for the visitors' pleasure and comfort but also for the hotel's health.
Using the right cleaning tools and products ensures that the pool and surroundings are in operating conditions and guarantee an extended lifespan.
A clean swimming pool requires something more than just brushing the pool's surface or clearing the material that floats on the top now and again. You need to keep your collection hygienic and acceptable for general usage.
Here is a detailed look at some cleaning techniques for your hotel's swimming pool.
Use Top-of-The-Line Technology
Spending on effective cleaning products will generate positive and tidy results.
To wash your pool's surface, mosaics, travertine, grating and sidewalls, you will need the correct supplies and tools. In addition, the pesticides you buy for your pool must be tough on germs but pleasant on your body.
The water balancing solutions by Cleanios Corporation utilize 24/7 automated control and delivery of sanitizer and pH chemicals, which will ensure that your pool and spa chemistry is continuously optimized for the safety, comfort and pleasure of your guests.
Ensure Effective Hoovering and Dusting
Visitors will not enter a swimming pool that does not appear to be sanitary. Maintain the collection by scrubbing the edges and cleaning the bottom consistently.
 Cleanios Corporation's multi-surface floor cleaners and renewal products can help tackle any spots and stains to achieve a deep clean.
Additionally, you must regularly suction the pool as part of regular upkeep. Sediment removal from the pool ground is critical too.
For this purpose, you can either employ a human commercial cleaner or a robotics suction.
Do Not Skip Disinfection and Sanitization
In light of the COVID-19 pandemic, simply cleaning a surface is insufficient. Regular disinfection and sanitization are essential, especially in a swimming pool that accommodates many people, increasing the risks of infection.
Cleanios Corporation's concentrated disinfectant cleaner effectively kills viruses, fungi and bacteria and is explicitly designed to disinfect hard, nonporous and inanimate surfaces.
Additionally, our surface sanitizers can be diluted for everyday cleaning or used to clean heavy stains in the pool.
Keep Your Tools in Good Shape
Apart from your poolside and decking, ensure that your pool hardware is well maintained.
Steel decorations, such as the fence, can corrode or tarnish. Other crystals can form on any material that is immersed in the water.
To prevent these surfaces from losing their shine, use a polishing and waxing application. This practice can also help to keep these surfaces from rusting.
If you're looking for products for swimming pools or general hotel maintenance, Cleanios Corporation is here to help. From laundry, hand sanitizers, housekeeping, dish care, carpet care, pool and spa needs to touch-free dispensers and automotive cleaners and degreasers; we have a ton of products and services to maintain your hotel property.