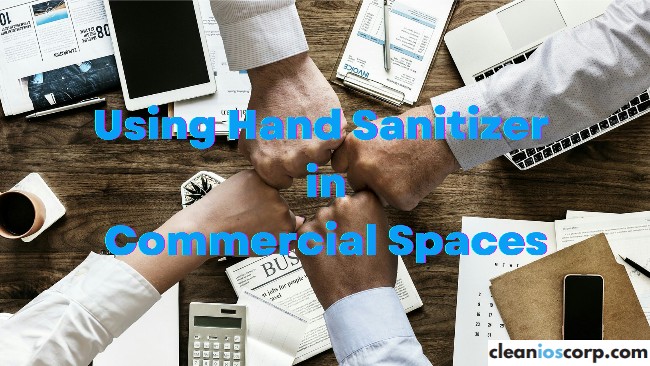 The pandemic has taught people how to use hand sanitizers and clean their hands regularly, especially before and after consuming food, entering or exiting any building. 
The same applies to commercial establishments where sanitization has become an integral part of overall daily activities, making it a great alternative to water and soap washing solutions. 
However, what does hand sanitizer for commercial use mean? 
Here's a guide on how hand sanitizers can help you keep your retail space clean, safe and productive.
Hand Sanitizer For Commercial Use
Commercial establishments, including offices, restaurants, gyms, and others, involve a lot of traffic. 
Hand sanitization plays a vital role in places where the risk of contracting any harmful virus or bacteria is magnified. 
Commercial hand sanitizers allow business owners and industries to use foam, gel or liquid-based solutions to kill microbes and make it easy to get rid of germs and other irritants without needing a visit to a restroom.
Importance Of Hand Sanitizer For Commercial Use
The infection transmission rate is often magnified at work or in any commercial environment, given the footfall and diverse crowds assembling in a single place.
To enhance hygiene and cleanliness, hand sanitizers become an essential element to prevent the transmission of viruses and bacteria, promoting hygiene and proper health thoroughly.
Hand sanitizers at commercial places have become a norm and often give a good impression of the business when placed conveniently across the retail facility.
It helps escalate overall health and hygiene and maintains a positive image for the business.
Types of Hand Sanitizers for Commercial Use
The formulations of hand sanitizers and their dispensing methods change drastically based on their use.
Hand sanitizers are available in alcohol or alcohol-free forms, foam-based, gel-based and liquid-based formulations. Additionally, each of these requires the correct type of dispenser to allow proper flow of the sanitizers from the bottle/unit to the individual's hands.
Things To Know About Hand Sanitizers For Commercial Use
Hand sanitizers are great for cleaning and sanitizing hands when applied. However, there are a few things that you must know before getting hand sanitizers for commercial use.
Sanitizers have a shelf life of two to three years, depending on the type, after which they expire.
Hand sanitizers are made to kill 99.99% of germs, assuming they have more than 70% ethyl alcohol as an active ingredient.
You have technical grade and pharmaceutical grade formalizations.
Some lower-end blends cannot be used for kids under 18 or women seeking to become pregnant, are pregnant or breastfeeding.
To purchase hand sanitizers for commercial use, reach out to Cleanios Corporation for more information. We are a leading chemical cleaning solutions company in Canada. We offer a state-of-the-art lineup of products from surface sanitizers, hand sanitizers, concentrated disinfectant cleaners, and alcohol-based hand sanitizers.