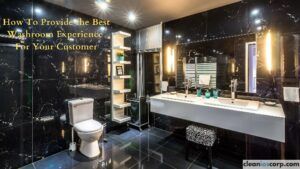 Clean public restroom facilities are a must-have if you work in hospitality, food service, fitness, healthcare, or any other business where you must attend to customers.
It is a universal need and can change someone's perspective of your business for the better or worse.
For instance, a 5-star hotel with shabby washrooms would plunge its reputation, while conversely, a fast-food restaurant with clean and tidy restrooms can uplift its image.
A good washroom experience can translate into better customer service and reviews; no one forgets a business with a clean restroom, which also enhances hygiene.
Let's check out some processes to provide the best washroom practices for your guests and customers.
Keep It Clean to Use
You need a clean washroom for the customers and guests to attend to. 
That's a priority and a challenge to maintain, given that people use restrooms several times daily. 
Our floor and restroom care products, including Peroxi 3 and Best Tek Cherry, can help sanitize and disinfect washrooms while giving them a pleasant scent. 
Ensure Hygiene
People nowadays give a lot of importance to hygiene in public restrooms. You can tap into these visitors' mindset simply by ensuring the facility is highly sanitized and hygienic 24/7, along with using touch-free automation for hand health. 
Products such as Eliminator 42 can help neutralize any microbial threat that may be harvested on the various surfaces. With this, your establishment can tackle hygiene-related issues and probably avoid recurring COVID-like situations. 
Alternatively, you can use products like Protocol K-760  or Protocol K-750 foaming hand lotions for washroom facilities. Cleanios Corporation has a lineup of all these hygiene products that abide by eco certifications and are environmentally friendly with CFIA approval. 
You can also choose alcohol hand sanitizers made up of 70% ethyl alcohol with NPN certification that ensures that all the products in your washroom are of top quality.
Add A Whiff Of Pleasant Aroma
No one likes a room with an unpleasant aroma, let alone a washroom. 
We don't personally walk into a smelly restroom, and that's what your customers would experience if you don't keep it pleasantly aromatic. 
To combat foul smells in the washroom, you can opt for Fresh in  to deodorize garbage bins, toilet bowls, and other areas prone to odours caused by micro-organisms.
Our Fresh In Spray deodorizer also chemically neutralizes odours on various surfaces associated with humans, animals, food, chemical processes, and smoke. 
Contact Us
Need cleaning chemical supplies for your facility? 
If you are looking for the best and high-grade surface cleaner, sanitizer, disinfectant and other chemical cleaning solutions, contact Cleanios Corporation.
We have engineered various cleaning solutions tailored to your requirements with years of experience across different industries.
Reach out to us, and we will be back with a quote.